The annual RSGB National Analysts Conference, took place on 1st March as RSGB's first hybrid event. The annual conference, known as Joining the Dots, took place at the Royal Automobile Club in London, whilst simultaneously broadcasting content to 180 participants online around the country.
---
The day kicked off with a far reaching and challenging keynote from David Ward, executive president of the Towards Zero Foundation and Global NCAP. Looking at global trends and the ambitions for the second UN Decade of Action for Road Safety, as well as addressing the issue of Russia's leadership role on road safety in the UN, David then narrowed in on challenges closer to home.
---
Highlighting the projections in the GB Road Safety Performance Index, he emphasised the need to embrace the vehicle standards in the General Safety Regulation and re-emphasise the role of roads policing.
---
Following on, Katherine Williamson, head of strategy and roads investigation at the DfT, provided an extremely helpful overview of the developing strategic framework for road safety. She addressed some of the challenges already raised and highlighted the new collective and collaborative approach that the Government is taking to embrace safe systems, extend learning from collisions and develop policing capacity.
---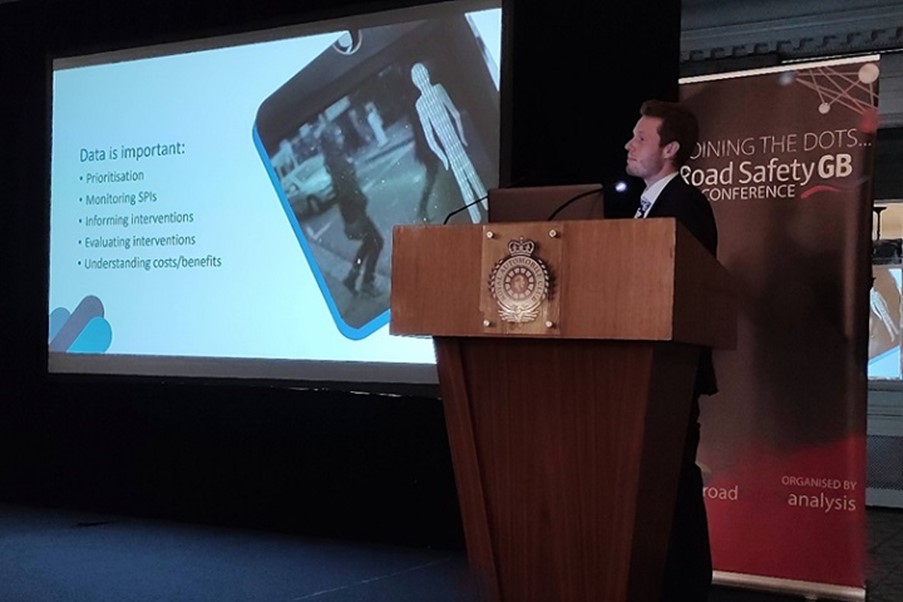 Exploring 'The Changing Face of Transport Data', the conference then started to dig into the ways in which mobility is changing and the challenges this presents for analysts and researchers looking to enumerate risks.
---
Professor Fred Wegman (University of Delft) and Margaret Winchcomb (PACTS) looked at this in relation to emerging forms of mobility, while John Howard (CommonPlace) showed how community engagement data can inform policy and interventions.
---
Tackling how we might 'Embrace New Sources of Data', session two featured Rikesh Shah, who showed how TfL are working with Daimler to interrogate vehicle data, while Suzy Charman (Road Safety Foundation) and Sam Chapman (The Floow) explained how they are building a fine-grained speed data platform to support road assessment.
---
Finally, Matthew Tranter (DfT) presented work on creating data linkages between STATS19 and health data sets. The afternoon session started with a panel discussion on "How safe is safe enough?" examining the data and analytical approaches needed to interrogate new infrastructure, using Smart Motorways as a case study.
---
Hosted by RSGB research director, Matt Staton, the panel included, Kate Carpenter (CIHT spokesperson), Sarah Simpson (Royal Haskoning DHV), Patrick Waterson (Loughborough University) and Richard Owen (Agilysis) Finally, a fascinating session on the use of 'AI for Road Safety' looked at the current state of the art technologies that are leveraging new analytical approaches.
---
Mark Bell (TRL) showed how the FleEco project is evaluating vehicle performance using high frequency data; Craig Smith (Agilysis) on deriving road attributes from telematics data, satellite imagery and other image sources; Peter Mildon (Vivacity) on developing near miss data; while Seema Yalamachili and Sofia Bras Pinto demonstrated their work correlating road safety and crowdsourced data.
---