Safe System Capacity Survey
In anticipation of the release of the Road Safety Framework from the Department for Transport, which was delayed this week due to the high temperatures the UK is experiencing, Agilysis are launching a new national survey to understand the existing capacity within local authorities, and partners, for safe systems implementation.

---
With support from numerous road safety organisations including PACTS, Roadsafe, ADEPT, CIHT, IHE, RSF, IAM, RSGB, and RACF, the survey will take a snapshot of the current state of Safe System implementation at the local level so that gaps can be identified and comparisons over time be made.
---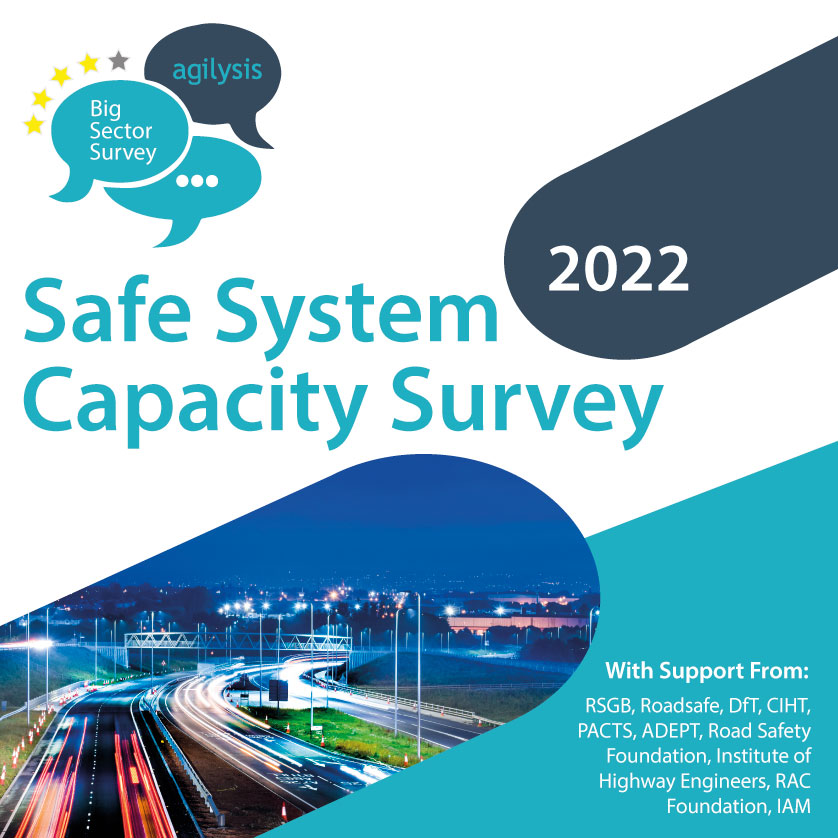 By participating and answering these questions, you will be ensuring that your needs and priorities are represented and understood, aiding in the development of tools, training, and supporting actions to help you in your work. Without your involvement, we, alongside these other organisations, won't know what help you need.

---
We therefore thank you in advance for your time in getting involved. The plan is that we will revisit this survey annually, allowing us all to track developments over time.
---
No sensitive information will be requested and any information about your organisation will not be shared. We do ask some information on the composition and capacity of your teams – this is to assist with comparative analysis across types of organisation, providing you with insight as to how others like you are getting on.
---
The survey will remain open throughout the summer, closing on the Friday 15th September, and we aim to publish the findings in a report in mid-October. We will follow this up with a new three part webinar series dedicated to the safe system, and building capacity, based on what the survey reveals.
---
Anyone from a UK road safety local authority, police force, fire and rescue service or road safety partnership, will be able to participate even if someone else from your team has already taken part. We want to build a complete picture at all levels so would encourage you to share this with your colleagues too.
---
Thank you once again for your participation. We really hope the results will help you in your road safety role.
---