Safe System Capacity Survey
A year on from the first Safe System Capacity survey, Agilysis is relaunching the national survey to understand the existing capacity we have for implementing the Safe System in Britain. What progress has been made over the last year? How well equipped are we in the UK to influence all aspects of the system, or are we facing gaps in knowledge, skills, and resources?
---
Supported by the nation's leading road safety organisations including PACTS, IHE, the Road Safety Foundation, Road Safety GB, IAM RoadSmart, Roadsafe, and the RAC Foundation, the survey will take another snapshot of the current state of capacity for Safe System implementation across the country, so that gaps can be identified, and comparisons made to last year.
---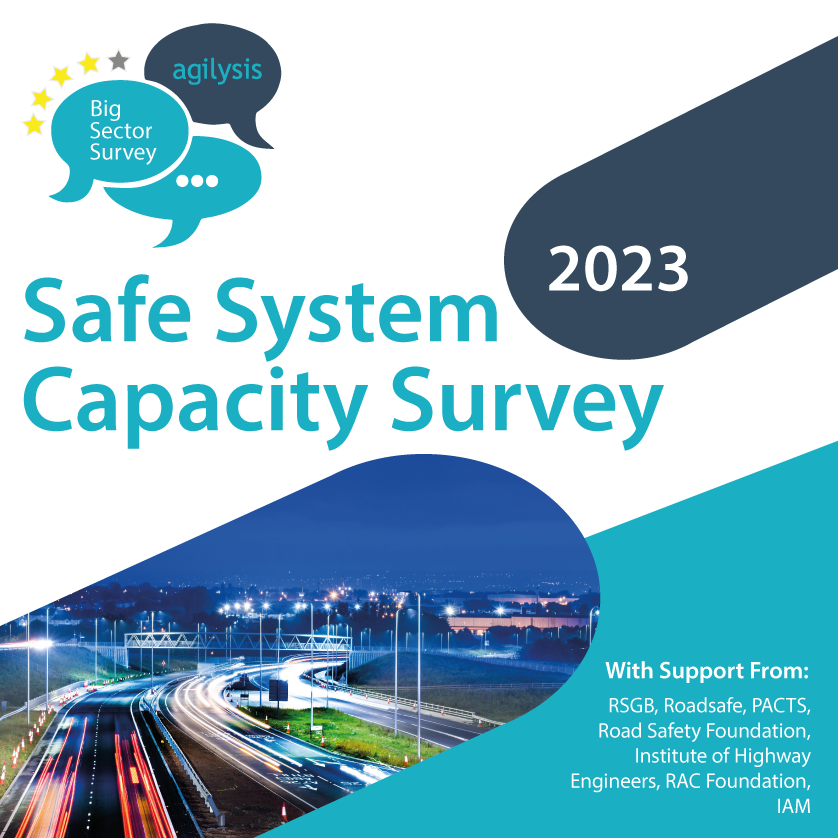 Tanya Fosdick, Research Director at Agilysis says "The response to last year's survey was incredible and this year is open to an even wider audience. By participating, you'll be ensuring that local needs and priorities are represented and well understood, aiding in the development of supporting actions to help you in your work. Without your involvement, we will be missing a critical part of the picture."
The Safe System is internationally recognised as the best practice model for moving towards a goal of eliminating road deaths and serious injuries, making our communities more liveable and contributing to a healthier more inclusive society. But we recognise that it cannot be delivered without the vital role of many partners.
The survey won't ask you for sensitive information, and all your responses will be anonymised when findings are presented. It will ask for some information on the composition and capacity of your team – this is to aid with comparative analysis across different organisations and will provide you with insight as to how others, like you, are getting on.
Tanya says "This year the survey is open to anyone in the road safety community, including anyone from a UK road safety local authority, police force, fire and rescue service, road safety partnership, charity, or private organisation. Anyone will be able to participate, even if someone else from your team has already taken part. We want to build a complete picture at all levels, so would encourage you to share this with your colleagues too."
The survey will remain open throughout the summer, closing on Friday 15th September 2023, and we aim to publish the findings in a report later in the Autumn.  We will follow this up with a new webinar dedicated to understanding the Safe System, highlighting where we need to continue to build capacity, based on what the survey reveals.